Scoot Coupe Rentals-Car License Required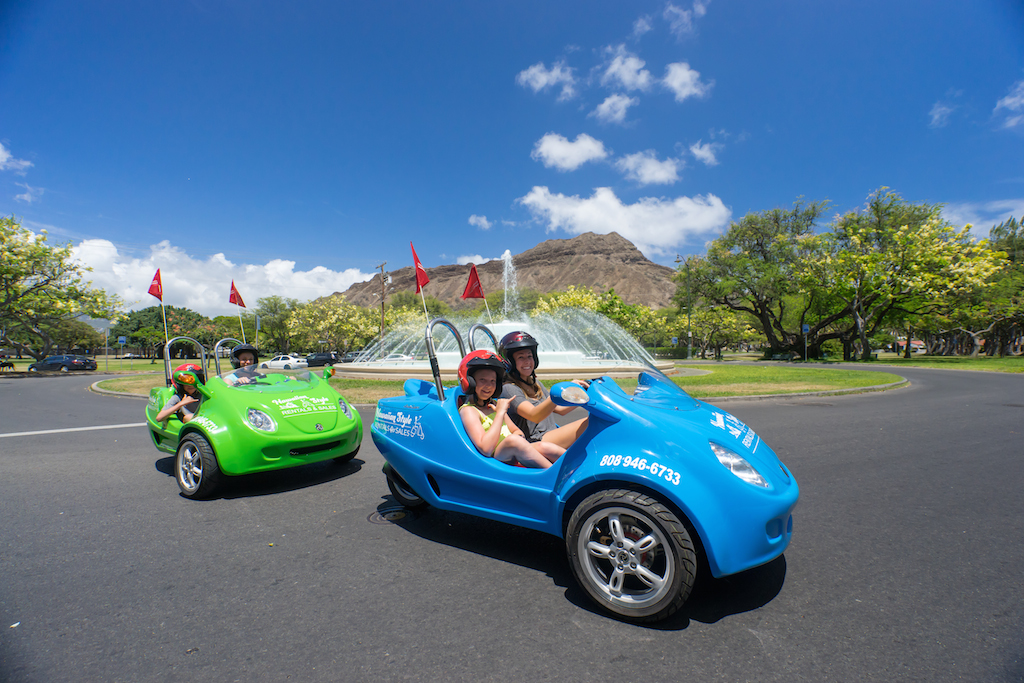 The Scoot Coupe is sleek, elegant, practical and just plain fun, It's simply the coolest moped you'll ever use! Only a car license is required to rent a Scoot Coupe. It is the only two person moped in Hawaii. Passengers must be at least 7 years old.

Designed only for riding in Honolulu. The Scoot Coupe is great for riding around Diamond Head, up towards Manoa Falls, down into the Punchbowl Cemetery, Downtown Honolulu, Kaka'ako, Magic Island and Waikiki.

Equipped with an auxiliary cable and speakers so you can listen to your favorite music while turing heads at every corner. The rental includes helmets, a lock, a custom tour map, coverage and gas.

In the right conditions the Scoot Coupes are a blast. Please remember to stay off all major roadways. It is very dangerous, and in some cases illegal, to take them on the H-1, H-2, H-3, the Pali, Likelike, the Kalanianeole and Nimitz. Unfortunately, you cannot drive out to Hanauma Bay or Pearl Harbor. Traffic is too fast and unlike a moped there is not enough shoulder to ride in. The coupes are very low to the ground and visibility is poorer at night, so for your protection we do not allow any overnight rentals.

We require all Scoot Coupe renters to watch a safety video and perform a road test around the block to make sure they feel comfortable with their rental. We assign a helmet with every rental and they have to be worn on the test lap around the block. We won't let anyone leave until they feel comfortable. If they don't feel comfortable after the test lap we will happily refund them.

Please make sure to ask your friendly rental specialists for advice on where to go and what to do on your rental.

Mahalo!